Spherical roller bearings
Tapered roller bearings
Cylindrical roller bearings
Barrel roller bearings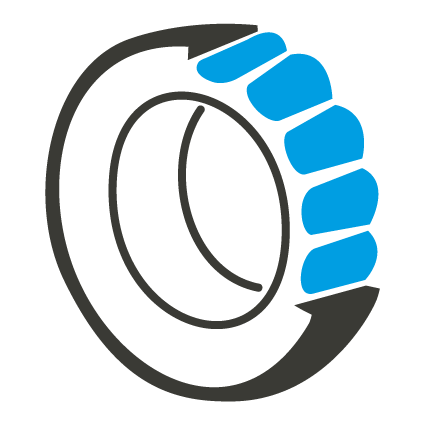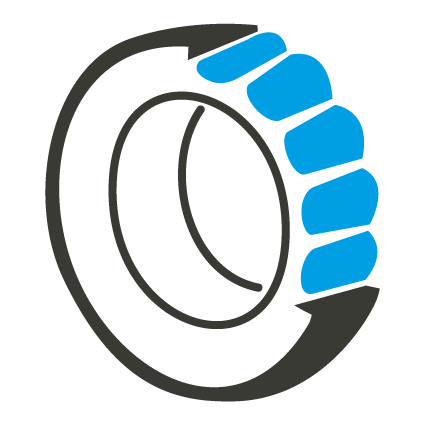 Spherical roller bearings
A spherical roller bearing consists of a solid outer ring with a raceway, a solid inner ring and the barrel rollers with cage.
Put simply, two rows of rollers share a raceway in the outer ring.
Due to this design, spherical roller bearings are angularly movable; the inner and outer rings can be "rotated". In other words, slight misalignments between shaft and housing can be compensated.
The inner rings have either cylindrical or tapered bores. This allows for particularly large bearings with adapter or withdrawal sleeves to be mounted.
Spherical roller bearings have very high radial load-carrying capacity and can also support high axial loads.
If the bearing is sealed, the service life can be significantly increased under difficult ambient conditions.
Typical areas of application include:
Heavy mechanical engineering, plant construction, conveyor technology, wind power, mining, …
Taper roller bearings
Tapered roller bearings consist of rings with tapered raceways and tapered rollers in a window cage.
Loads are transferred from one ring to the next by the contact angle.
This can result in an axial force even with a pure radial load.
Tapered roller bearings can therefore withstand both axial and radial loads.
However, tapered roller bearings are not self-retaining; i.e. when dismounted, the outer rings detach from the rest of the bearing.
Typical areas of application include:
Shipbuilding and vehicle construction, agricultural engineering, construction machinery, trucks and heavy-duty trailers, motorcycles, …
Cylindrical roller bearings
In cylindrical roller bearings, cylindrical rollers form the rolling elements which are guided between cylindrical ring surfaces.
They can absorb particularly strong radial forces.
Cylindrical roller bearings are available in a wide variety of designs, including:
Type NU: two fixed ribs on outer ring – inner ring without ribs
Type NJ: two fixed ribs on outer ring – one fixed rib on inner ring
Type NUP: two fixed ribs on outer ring – one fixed rib on inner finger + flanged wheel
Typical areas of application include:
Geared motors, electric motors, pumps, compressors, mechanical presses, mining machinery, …
Barrel roller bearings
Barrel roller bearings consist of a solid outer and inner ring, with ribs on both sides, as well as a cage with barrel rollers.
They are particularly suitable for radial loads which occur with impact; their axial load-carrying capacity, however, is very low.
Barrel roller bearings cannot be dismantled.
Typical areas of application include:
Heavy mechanical engineering, plant construction, conveyor technology, mining, …