Locating rings
Adapter sleeves
Lock washers
Lock nuts
Cylindrical rollers
Steel balls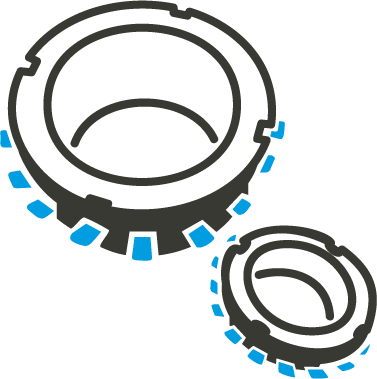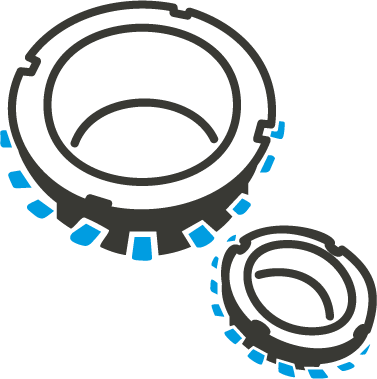 Locating rings
Locating rings are used in split bearing housings in order to fix the bearing in the housing without play.
The bearing is often axially fixed in the housing by inserting locating rings in the housing.
If, however, the bearing is fixed using an adapter sleeve, only one locating ring is required. In this case it must be ensured that the locating ring is inserted on the side of the sleeve nut.
Adapter sleeves
Adapter sleeves are the most commonly used fastener to secure tapered bore bearings to a cylindrical seat.
Since they do not have to be mounted on the shaft, they are considered to be particularly easy to assemble.
Adapter sleeves consist of a tapered metal sleeve, a locking plate and a correspondingly large slotted nut.
In addition to the mounting function, adapter sleeves are also used to adjust the internal clearance of a rolling bearing.
Lock washers
Lock washers are plates which are used to secure screws. This is to prevent the screw connection from loosening and the nuts, especially locknuts, from being twisted.
Lock washers act through one or two lobes. If they are bent open, the tab prevents the nut from rotating.
Lock washers are available in bright steel, galvanized steel or stainless steel.
Lock nuts
Lock nuts are used to fix bearings on a shaft or to make easier the removal of bearings on withdrawal sleeves.
Lock nuts are also frequently used to secure gears or other machine components on a shaft.
They are secured by special locking elements which engage in the groove or by a locking element which is integrated directly in the shaft.
Important factors in the selection of a lock nut include:
Axial and radial clearance
Direction of rotation of the shaft
Magnitude of axial load
Cylindrical rollers
Cylindrical rollers are among the most common rolling elements and are usually used when high radial loads are involved or when a bearing is generally exposed to very high loads.
Typical areas of application include:
Gear construction, linear guides, mechanical engineering, vehicle construction, measurement technology